Day trips from Munich
Great ideas for Day-trips from Munich
Book a tour
Would you prefer to take the "travel stress" out of exploring Bavaria?
Why not take a look at some of the organised tours offered on the page
Tours of Bavaria
.
Just in case you weren't sure, Munich is the capital city of Germany's largest state, Bavaria (German:
Bayern
).
Regional Bavaria is very well connected to the capital, so Munich makes an excellent base for days-trips and excursions.
Here are 10 great ideas for exploring Bavaria, your portal for exploring this beautiful region!
1. The factual fairytale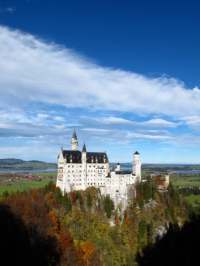 Think of romantic Germany and one indelible image comes to mind – Neuschwanstein Castle.
It's the stuff of fairytales, an old oddball's dream, a majestic mix of structure and landscape and one of Europe's biggest tourist magnets.
Destination Munich has six pages on Neuschwanstein castle including practical info, oppotunities for organised tours from Munich and, of course, plenty of photos,
• Go to the main
Neuschwanstein Castle Germany
page
•
Pictures of Neuschwanstein Castle
2. Climb every mountain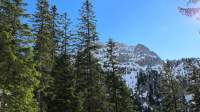 Strap on your hiking boots and expore the mountains behind Neuschwanstein Castle. Let me show you the way to the top of the:
• Tegelberg
3. A sacred mound of fine beer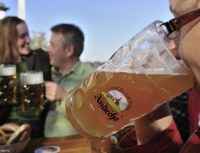 On a hill about 40km south-west of Munich you'll find Kloster Andechs. It's home to a Benedictine monastery, a church and one of the most loved beer gardens in the whole state.
Make your own pilgrimage to this most holy spot.
•
Kloster Andechs
4. Bewitching town in Bavaria's north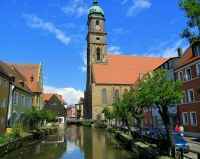 Discovering Amberg is like finding a $50 note in your coat pocket you didn't know you had - wonderful, unexpected and oh so welcome. Here you can get a taste of "untouched" Bavaria.
•
Amberg
5. Natural wonder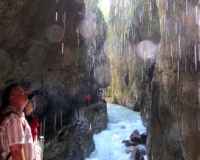 The Partnachklamm is a natural gorge near the Bavarian Alpine town of Garmisch-Partenkirchen.
Walk its length and soak up the natural beauty - as well as the spray from the waterfalls overhead.
•
Partnachklamm
•
Partnachklamm picture gallery
6. Home on the range
Königshaus am Schachen
(King's House on the Schachen) on a day hike from Garmisch-Partenkirchen.
•
Kongishaus am Schachen
•
Konigshaus Picture
gallery.
7. The top 10 biggest cities in Bavaria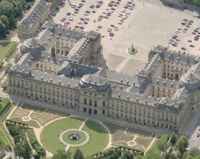 There are a lot more quaint urban landscapes out there in Bavaria beyond Munich.
Get some day-tripping ideas from this illustrated guide to the top 10 biggest cities in Bavaria after the Weisswirst Capital.
•
Cities in Bavaria
9. Herrenchiemsee Palace - Ludwig's Versailles?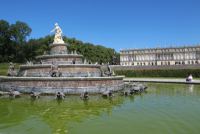 Ludwig's most expensive creation sits on an island in lake near the Alps. Bold and beautiful, the Herrenchiemsee Palace is a fantastic day-trip from Munich.
•
Herrenchiemsee Palace
•
Herrenchiemsee pictures
8. Linderhof Palace - Work of a genuis?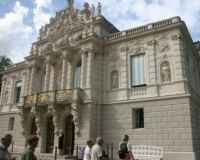 Former Bavarian King Ludwig II is known by many names: The Mad King, the Swan King, the Fairytale King, the Gay King, the Night King.
You'll be calling him the Brilliant King after seeing the Alpine palace he designed
•
Schloss Linderhof
•
Linderhof pictures
10. Popuar ski resorts near Munich
Where are best places to ski in Bavaria? Find out here. Skiing enthusiast Steve Rout has put together this great story so you'll get the most out of your Bavarian skiing adventure.
• Ski resorts near Munich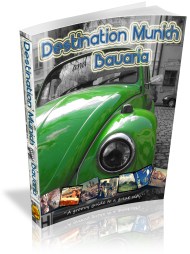 Every once in a while a book comes along that changes your life.
Until it does, please consider buying Destination Munich and Bavaria, the grooviest, most informative guide on the market :-)
It'll give you full-colour maps, practical info and hundreds of tips on how to get the most out of your visit.
It's 285 pages of up-to-the-minute travel intelligence and it can be yours as an eBook for less than the price of an Oktoberfest beer. (
read on
)
Sharing is sexy! Know how to RSS it? Subscribe here:
Spread the love and tell a pal about this particular page....
Take an organized tour
Want an organized tour into Bavaria? Here's one I can recommend. It'll take you up to Bavaria's second city, Nuremburg, a city famous for its beauty and historical importance. One of the most interesting day trips from Munich I can think of!

Cost:
from €35
Duration:
nine hours
Nuremberg's history is reflected in two ways, through its well-preserved medieval Altstadt (Old Town) and the former Nazi area a few kilometres from the centre.
On this rail tour you'll explore them both.

First there's a tour of the old town leading up to the grand castle at the top of the hill.
Then its off to the former Nazi grounds where you'll see where Hitler orchestrated the infamous
Nuremberg Rallies
of the 1930s.
There's also an excellent museum which tries to explain just how the Nazi party managed to gain so much power and influence in Germany. Fascinating stuff.
(Read more about the tour)
• To see more tours of Bavaria including many which cover Schloss Linderhof, see here at Tours of Bavaria.