Cinemas in Munich
CINEMAS IN MUNICH: There are a couple of options if you'd like to catch a movie while you're visiting Munich.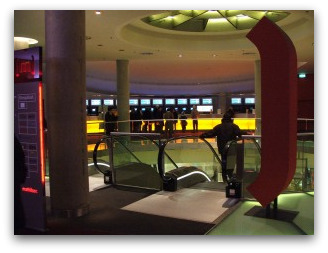 SHOWTIME: Inside the Mathäser cinema in Munich (see details below).
Pic: CC dustpuppy
Most films are dubbed into German for local audiences but a few cinemas which screen original versions of the latest films.
The most distinguished is
Cinema München,
with one large viewing hall and an excellent sound system.
It gets quite busy on weekends so make a reservation online. You can also check the program on the
website
here
cinema-muenchen
.

Cinema München details: Location
It's at Nymphenburger Strasse 31 about 20min walk north of the Main Train Station (Hauptbahnhof). You could also take the U-bahn No .1 to Stiglmaier Platz and walk from there.
Phone
089 55 52 55.
Lots of character
Another silver-screen institution is the
Museum Lichtspiele
which has four small cinemas, each with a different theme. It's cosy as hell and makes for a very original experience.
The Museum Lichtspiele
also holds the world record for screenings of the Rocky Horror Picture Show. Yep, it's been shown here every Saturday night for about 30 years.
Museum Lichtspiele - Location
It's at Lilien Strasse 2, close to the S-Bahn station Isartor
Phone
089 482 403
Website
muenchen.movietown.eu
Big screen big scale
Munich's big cinema Multiplex is the
Mathäser
which you walk past on the way from the Main Train Station (Hauptbahnhof) to the Karlsplatz-Stachus square.
They usually show films dubbed into German but if you're keen on checking something out in the original language here watch out for letters OV, meaning "original version" next to the film title on the preview screens.
Mathäser Cinema - Location
Bayer Strasse 5, it's a 5 min walk east of the Main Train Station
Phone
089 515651
Website
www.mathaeser.de


Map
it And here's a map showing the locations of the three cinemas mentioned above.
Enjoy the movies!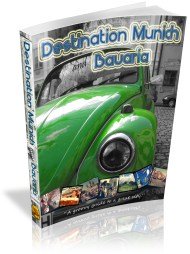 Every once in a while a book comes along that changes your life.
Until it does, please consider buying Destination Munich and Bavaria, the grooviest, most informative guide on the market :-)
It'll give you full-colour maps, practical info and hundreds of tips on how to get the most out of your visit.
It's 285 pages of up-to-the-minute travel intelligence and it can be yours as an eBook for less than the price of an Oktoberfest beer. (
read on
)
Sharing is caring
Spread the love and tell a pal about this particular page....