Books in English

BOOKS IN ENGLISH:
After something to read during your European tour?
Munich has a few solid options for those seeking English language books in Munich.
Here's the Destination Munich guide to finding the best books in the folkloric city of monks.
The main places to pick up your books in English in Munich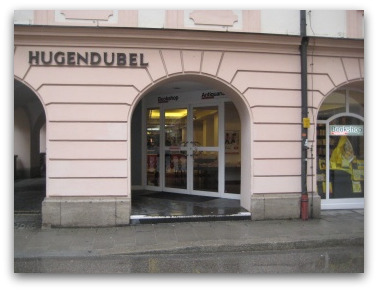 NO MORE: Hugendubel's English-language bookstore on
Salvatorplatz closed in 2012. Booooo!!!!!!
Hugendubel
Hugendubel's dedicated English-language bookstore sadly closed down in 2012, but multi-storey branches still can be found on Karlsplatz and Marienplatz, both boasting humble collections of English-language titles. At the Marienplatz branch it's on the second floor.
This also offers great views over Marienplatz and of the Glockenspiel opposite.
There's a cafe on the top floor and lots of comfy red armchairs. English-language travel guides are mixed in with the German titles – look for the word Reiseführer (travel guide) on the directory signs.
The English language section Karlsplatz branch is on the ground floor, around to the left past the entrance.

The Details -Website: www.hugendubel.de Open: Monday to Saturday 10am to 8pm
Not there yet?
So you're not in Munich yet but you'd like to stock up on your reading material about the city?
You can, of course, get great deals from Amazon.com , and since Destination Munich is an Amazon partner, you'll also be supporting this site.
Check out my page about
Munich travel guides
.
The Munich Readery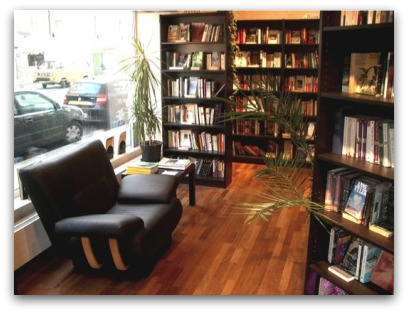 COSY: Inside the Munich Readery, which has many books in English.
What claims to be Germany's biggest English-language second hand bookstore stocks around 40,000 titles in an Aladdin's cave
of crowded shelves.
There are novels, non-fiction books and even children's books if that's what you're after. The store is run by a friendly American who's lived here for years.
You can't sell your used books to the Readery but you can trade them in for other second-hand titles. To learn more about the trading policy see
here
or check out the store's website
www.readery.de
.
The Details


Location:
Augusten Strasse 104, Munich
Phone:
089 12 19 24 03

Open:
Monday to Friday 11am to 8pm, Saturday 10am to 6pm

Directions:
It's about a 20min walk north of the Main Train Station (Hauptbahnhof). Or you can catch the U2 subway to Theresien Strasse and then walk two blocks north on Augusten Strasse.
Words' Worth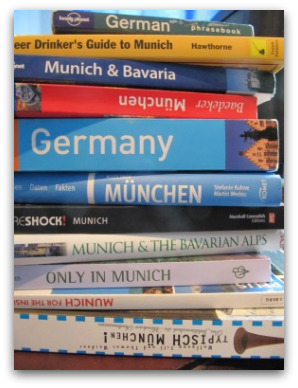 MUNICH BOOKS: Part of my embarrassingly
large collection of books covering Munich.
A long-running Munich favourite, Words' Worth has a mid-strength range of fiction and non-fiction titles at pretty reasonable prices.
They also stock DVDs, gifts, board games and oddball items such as organic soaps and "brandy butter" before Christmas.
The Details -

Location:
Schelling Strasse 3. It's in the humanities building of LMU (Munich's main university).

Phone
089 2 80 91 41

Website:
www.wordsworth.de

Open:
Mondays to Fridays from 9am to 8pm. Saturdays 10am to 4pm.

Directions:
Take U-Bahn No 3 or 6 to the stop Universität.
Internationale Presse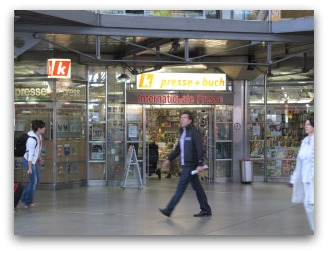 QUICK STOP: Pick up your newspapers and books
in English at this Hauptbahnhof shop if you're
in a hurry.
A functional little one-stop shop in the
Main Train Station (Hauptbahnhof)
opposite the platforms. It has a small but steady range of the latest novels in English as well as magazines and newspapers from around the world.
As with most shops at the Hauptbahnhof, it's open late and on Sundays.
Map

View Books in English, Munich in a
larger map
Here's a map showing the locations of the bookstores mentioned on this page.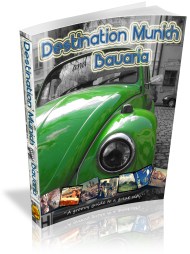 Every once in a while a book comes along that changes your life.
Until it does, please consider buying Destination Munich and Bavaria, the grooviest, most informative guide on the market :-)
It'll give you full-colour maps, practical info and hundreds of tips on how to get the most out of your visit.
It's 285 pages of up-to-the-minute travel intelligence and it can be yours as an eBook for less than the price of an Oktoberfest beer. (
read on
)
Sharing is sexy! Know how to RSS it? Subscribe here:
Spread the love and tell a pal about this particular page....