Big Bear Oktoberfest

An introduction to the Big Bear Oktoberfest
One of West Coast USA's best-known Oktoberfest celebrations must also have one of the most gorgeous settings.
The Oktoberfest at Big Bear runs over seven weekends in September and October. The action happens at a convention centre near the shores of Big Bear Lake, a resort town near San Bernardino in Southern California.

Background
PARTY: A couple of girls at the Big Bear Oktoberfest. Pic: kara brugman
German immigrants Hans and Erika Bandows started the Big Bear Oktoberfest in 1969.
The couple had bought a hotel called the Wawona Lodge and renamed it the Bavarian Lodge, rebranding the place with a German theme as well.
The next natural step was to start an annual mini-Oktoberfest.

Big Bear's Oktoberfest takes place at the Convention Center at Big Bear Lake.

Events and entertainment
BUK BUK BUK: An Oktoberfest chicken greets at guest at Big Bear. Pic: kara brugman
German bands and dance acts are the staple entertainment at Big Bear's Oktoberfest.
While some are Californian-based troupes, others are direct imports from Deutschland.
Maybe the most entertaining thing to see at the beerfest is the annual beer stein-carrying contest.

Contestants have to carry as many one-litre steins as they can a distance of 6m (20ft) without spilling more than three ounces out of any one stein.
The record was set in 1974 when a woman carried 21 steins.

Big Bear Oktoberfest organizers claim it's a world record, although I'd there'd be one or two lasses in Munich with something to say about that.
The contest usually runs over three Saturdays.
Other events at the festival include:
▪ A "Safe Slam" beer drinking contest in which contestants drink as much non-alcoholic beer as they can.
▪ Log sawing contests
▪ Children's contests which usually take place on Sunday.
▪ A "Budenstrasse" area outdoors which has games booths, exhibitors and a petting zoo.
The first weekend of the festival is traditionally an "American Heroes Weekend" with free admission for the military, police officers and firefighters.

Food and drink
Organizers claim the Oktoberfest at Big Bear Lake is one of the most traditional in the US. That said, none of the beers served are actually Munich brews but instead brands such as Warsteiner, Budweiser and Jack's Pumpkin Spice.
The only beer that comes close is the
King Ludwig Hefeweisen
, a wheat beer that originates from a town near Munich, but isn't served at the Munich Oktoberfest.
Designated drivers
can get free drinks after getting an ID bracelet from the service staff.
German food on offer includes bratwurst, pickled ham hocks, Bavarian dumplings and apple strudel. Organisers maintain a "Café Americana" in the outdoor beer garden if German food isn't your cup of tea.
In order to buy food and drink at the Oktoberfest you first need to buy tickets which the organizers dub "Burgermeister Bucks", literally, Mayor Bucks. They're sold singly or in books of 20.
More information

Contact details for the Oktoberfest Big Bear
Phone 00 1 909 585 3000
Address 42900 West Big Bear Boulevard, Big Bear Lake, CA 92315
Email info@bigbearevents.com
Website www.bigbear.us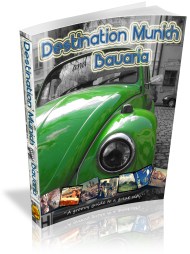 Every once in a while a book comes along that changes your life.
Until it does, please consider buying Destination Munich and Bavaria, the grooviest, most informative guide on the market :-)
It'll give you full-colour maps, practical info and hundreds of tips on how to get the most out of your visit.
It's 285 pages of up-to-the-minute travel intelligence and it can be yours as an eBook for less than the price of an Oktoberfest beer. (
read on
)
Sharing is sexy! Know how to RSS it? Subscribe here:
Spread the love and tell a pal about this particular page....