Beer Halls and Restaurants

Go local - beer halls and restaurants to enjoy the best of Bavarian cuisine
Practically all of the beer gardens mentioned in the Munich beer gardens pages also have a small also have a "Wirtshaus" where you can eat and drink Bavarian when the weather turns cold, so lend them a thought too if you want to "go local".
The Hofbräuhaus
Possibly the most famous beer hall in the world and a Munich landmark. Check out the full review here.
Zum Augustiner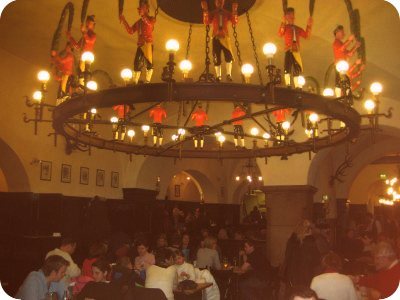 A "Chandelier" inside Zum Augustiner depicts Munich's iconic barrel makers
doing the traditional Schäfflertanz.
If you're wondering where Munich's most-loved beer is to be found then look no further. Augustiner's brews are served straight from traditional oaken barrels. This is a classic Munich beer hall decked out with a vaulted ceiling and paraphernalia from the city's 800+ year history. It's actually a maze of hidden corners and private rooms (one is even coated in seashells) but chances are you won't get to see much of them unless you go purposely sticky nosing around. There's also seating on the pedestrian street in front of the restaurant and a small beer garden out back.
If you're visiting in spring I suggest you give your tastebuds an orgasm and order one of the Spargelspezialitäten (asparagus specialities).
Sample costs
Asparagus with hollandaise sauce and grilled zander €21.80, 500ml Helles (lager) beer 3.70€
Address
In Munich's main pedestrian drag, Arnulfstrasse 52
Open
Daily 10am-12am
Phone
089 594 393
Website
www.augustiner-restaurant.com
Löwenbräukeller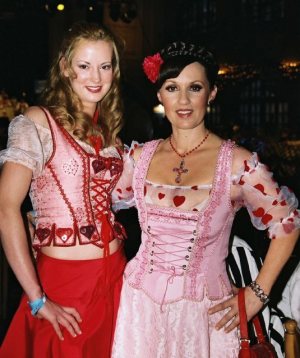 Two women in modern takes on the"Dirndl"
dress at a "Nacht der Tracht" - Night of Folk
Costumes evening at the Löwenbräukeller.
Pic: GAP089 via Flickr
If you've already heard of any Munich beer there's a good chance it's Löwenbräu (pronounced:
Ler-vin-broy
). The brew has been widely exported for over a century, even though it's one of Munich's least favourite home grown beers. This massive beer hall is nonetheless impressive with room for 2000 revellers in the upstairs "cellar" and a further 1000 in the adjacent beer garden.
It was much bigger in the past though: before the original building was destroyed by bombing in 1944 there was room for some 8000 guests. The building has a big, pointy turret and is simply impossible to miss. They go all out for seasonal events here. In mid-February to March it's the scene of some rowdy masquerade balls to celebrate Carnival (or as they call it in Bavaria, Fasching).
In mid-March there's the Strong Beer Festival where Löwenbräu's Triumphator beer gets 'em dancing on the benches. It's not just the beer that packs a punch at this fest, as there's also an annual
Steinheberwettbewerb
(rock-lifting competition).
The cellar is transformed into an alternative venue during Oktoberfest, when it takes the name Das Wiesnzelt am Stiglmaierplatz, which has the advantage of being able to stay open well past midnight. But there's reason to call in all year round as Bavarian oompah bands and Schuhplatter dancers take the stage any day of the week.
Sample costs
Roast pork with a dumpling and salad €10.50, 0.5L Löwenbräu beer €4.20.
Address
Nymphenburger Strasse 2
Open
Daily 10am to 12am
Phone
089 5472 6690
Website
www.loewenbraeukeller.com
Weisses Brauhaus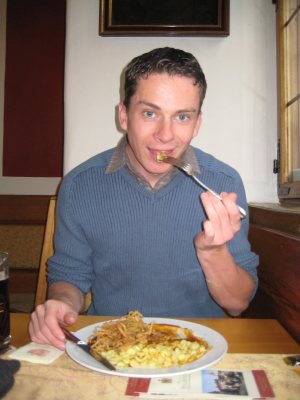 That's me enjoying some fine Bavarian food at
the Weisses Brauhaus in Munich.
This is nothing less than the home of my hands-down favourite Munich beer, Schneider Weissbier. It has a nutty, banana-like flavour, that, believe me is a lot tastier than it sounds.
If you're up for a challenge Schneider has a couple of strong concoctions; the Aventinus wheat Doppelbock (8.2 per cent) and the almost black Eisbock which weighs in at a whopping 12 per cent! The venue itself has a busy and somewhat refined edge compared with the noisy Hofbräuhaus nearby.

This isn't the place to party into the night but for a traditional meal and some suds it's second to none. There's been a brewery at this location since at least 1540 and groups of 10 or more can tour of the production facilities, see the website for details.
Sample costs Haxenteller (mixed-pork plate) €12.90, pair of sausages with sauerkraut €6.40, 0.5L Schneider Weissbier Original €3.60 Address Tal 7, 80331 Munich Open Daily 8am to 1am Phone 089 290 1380 Website www.weisses-brauhaus.de
Fine Dining
Tantris
Some say it's one of the world's best restaurants, so it's no surprise Tantris is Munich's culinary holy-of-holies. Chef Hans Haas is a star in Germany and his "temple of table joy" has two Michelin stars.
The Gault Millau French restaurant guide gives it their highest rating of 19 points. Reservations are a must. A fixed four-course lunch costs just shy of €100 and dinner will set you back €125 for a five-course meal and €145 if you opt for eight courses. Tantris is gaudy, overdressed, expensive and excellent.
Open
Tuesday to Saturday 12pm to 3pm and 6.30pm to 1am
Address
Johann Fichte Strasse 7
Phone
089 36 19 590 Website
www.tantris.de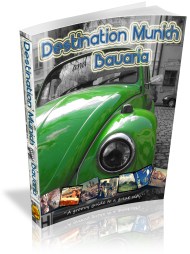 Every once in a while a book comes along that changes your life.
Until it does, please consider buying Destination Munich and Bavaria, the grooviest, most informative guide on the market :-)
It'll give you full-colour maps, practical info and hundreds of tips on how to get the most out of your visit.
It's 285 pages of up-to-the-minute travel intelligence and it can be yours as an eBook for less than the price of an Oktoberfest beer. (
read on
)
Sharing is sexy! Know how to RSS it? Subscribe here:
Spread the love and tell a pal about this particular page....