Bavaria Statue and Ruhmeshalle

BAVARIA STATUE AND RUHMESHALLE:
If you've ever wanted to get inside the head of a beautiful woman, Munich's statue of Bavaria is about to grant your wish.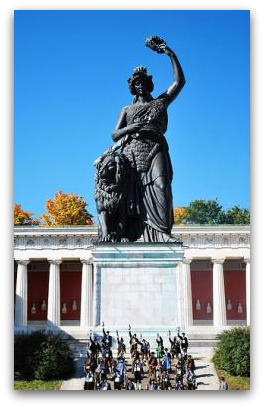 VIVA BAVARIA:
The statue represents the patron saint of the land. Photo by abhijeet.rane.
You can scale the 126 steps through this colossal dame's bronze body to the tiny viewing room inside her head. It's a good 30m above the Theresienwiese, the asphalt field where the Oktoberfest is held.
There are terrific views across Munich from inside Bavaria's head, but you may want to think twice about the climb on very hot days, when it feels like a sauna.
The views are particularly stunning when Oktoberfest is in full swing.

Bavaria dons a bear's fur, robe and sword and a lion, another state symbol, sits nearby.


The north face
Though she stands for all that's great about this fiercely patriotic southern German state, her face is actually modelled on…a Berliner!
Sculpture
Ludwig von Schwanthaler
chose a Berlin girl called Cornelia to grace Bavaria's dial. She was designed with the seminal "Germanic" beauty in mind.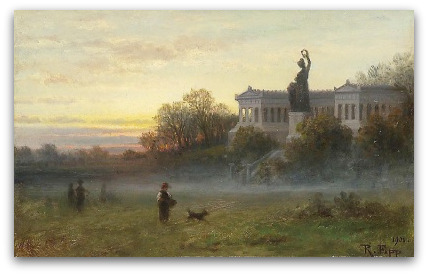 EARLIER TIMES: The Bavaria Statue looking over the Theresienwiese when it was a grassy field. From a painting by Rudolph Epp from about 1900.
Metalworks chief Ferdinand von Miller had the Bavaria Statue finished in 1850. At the time it was the biggest bronze statue made since antiquity. Von Miller made several copies of her little finger to give away as gifts.
They were said to be able to hold "three good Bavarian Maß" of beer. One of these digits is on display at the Munich City Museum (Münchener Stadtmuseum) across town.

Famous faces
Bavaria is framed by the Ruhmeshalle (Hall of Fame) displaying busts of the state's leading lights. The hall's three wings are home to the busts of about 100 famous Bavarian leaders, artists and scientists.
It was a boys' club up until 2000, when busts of actor Clara Ziegler and writer Lena Christ were added. Leo von Klenze designed this Doric-columned hall, built 1843-1853.
The details
Location: Theresienwiese, Theresienhöhe 16
Cost: €3, concession €2
Open: April to mid-October, daily 9am to 7pm und to 8pm during Oktoberfest.
Directions: Take U-Bahn No. 4 or 5 to Theresienwiese. It's a few hundred metres' walk south-west across the field to the statue.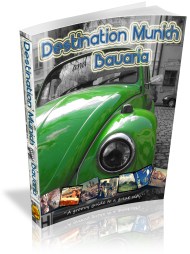 Every once in a while a book comes along that changes your life.
Until it does, please consider buying Destination Munich and Bavaria, the grooviest, most informative guide on the market :-)
It'll give you full-colour maps, practical info and hundreds of tips on how to get the most out of your visit.
It's 285 pages of up-to-the-minute travel intelligence and it can be yours as an eBook for less than the price of an Oktoberfest beer. (
read on
)
Sharing is sexy! Know how to RSS it? Subscribe here:
Spread the love and tell a pal about this particular page....