Accommodation Munich
A few tips on finding the best room for your budget
Munich has accommodation to please every taste and touch, and standards are generally higher here than in other big German cities.
There are many hotels and hostels clustered around the Hauptbahnhof (Main Train Station).
While this is convenient and close to the Oktoberfest field it's not a particularly nice part of the city with more than its fair share of porn shops and sports bars.
Nicer are lodgings closer in to the
Altstadt
or along the Isar River but these are a tad harder to come by.
There is also a smattering of hotels around
Munich Airport
,
see here for listings and a map
. If you're in Munich and you're still scouting for a hotel, pick up a copy of the excellent
Munich City Guide
from the tourist office.
It lists just about every lodging in the city.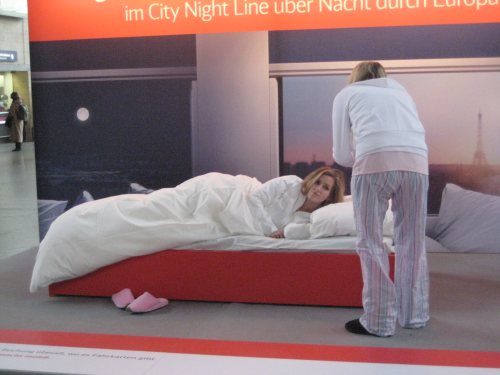 NEED A BED? There's no need to sleep at Munich Train Station (like these
girls who were part of a Deutsche Bahn promotion of overnight trains).
See below for accommodation Munich options.
Prices
Space in Munich is a valued commodity and you might find yourself forking out more on accommodation here than in cities like Berlin or Hamburg.
Rates go up during the warmer months (expect to pay "high season" prices from May to October). Be prepared to bite the bullet if you're coming for Oktoberfest. Prices skyrocket up to three times the normal going price.
For example, the budget hotel chain Ibis charges €49 for one person during summer and €179 for the same room during the festival. It's crazy but you can expect all the hotels to do the same.
Counter-intuitive though it is, hotel rates usually go down on weekends.
I guess this is because of the high number of business travellers push up demand during the week. It's worth asking for a discount if you're coming for a weekend.
If you're really looking to save money you might want to consider staying at a
campsite
or participating in the free accommodation service,
CouchSurfing
.
See the stories below to explore the options.
Oktoberfest hotel rates too high? Stay out of the city
You can cut costs by staying outside Munich during Oktoberfest. Though you'll have to pay a bit extra to commute in and out you'll end up saving a bunch on "festival surcharges" heaped on by the Munich hotels.
Smaller cities less than an hour away from central Munich by train include Augsburg, Landsberg and Freising. It's even possible to do Oktoberfest as a day-trip from Salzburg in Austria, it's about two hours away by train.

A list of the the top 10 hotels in Munich as chosen by the millions of travellers who use TripAdvisor.com . (Find out what they are here)

Munich caters well for visitors who like a little luxury. Here are listings of recommended four and five-star Munich hotels as well as links to in-depth reviews I've done.
(For more info go to: Luxury Munich hotels)


Some real bargains are to be had among Munich's mid-range and budget hotels.
See here for listings and in-depth reviews.
(For more info go to:
Cheap Munich hotels
)

If you're only in Munich for the short-term or you've got an early flight, you might consider looking for accommodation near Munich Airport.
(For more info go to:
Hotels near Munich Airport
)
(For more info go to:
Cheap Munich hostels
)
What if I told you I knew a place you could stay for free, where you can not only make new friends but get a lot closer to the "real" Munich than you ever could by staying in a fancy hotel?
Interested? Then read on, Couch Surfing could be just what you're looking for.
(For more info go to: CouchSurfing in Munich)


Camping
Camping is another econmical means to visit Munich, and this way
you get to enjoy the city's green spaces at the same time.
Some sites don't require you to bring a tent (they have their own for rent) and there is even a special site set up just for Oktoberfest.
Most also have space for caravans and campervans.
(For more info go to: Camping in Munich)
If you're coming to Munich just for the Oktoberfest you'll have to pay a premium on room prices - no exceptions. Luckily this Oktoberfest bed finder can help you find the best-value place to stay. Don't believe me? Just give it a try and compare!
(For more info go to: Oktoberfest beds)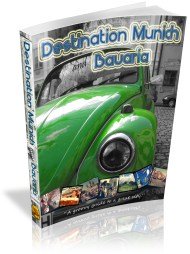 Every once in a while a book comes along that changes your life.
Until it does, please consider buying Destination Munich and Bavaria, the grooviest, most informative guide on the market :-)
It'll give you full-colour maps, practical info and hundreds of tips on how to get the most out of your visit.
It's 285 pages of up-to-the-minute travel intelligence and it can be yours as an eBook for less than the price of an Oktoberfest beer. (
read on
)
Sharing is caring
Spread the love and tell a pal about this particular page....